BPI Media Group's wideformat department assists our customers to communicate their message in a larger format than ever before. With a 96″ wide opening and the ability to print on rigid or roll substrates, we can produce the following items with ease.
● Banners
● Indoor * outdoor signage
● Window clings
● Large cut outs
● Point of purchase displays
● Floor vinyl
● Backlight signs
● Magnetic signs
● Custom wallpaper
● Complex finished shapes
At Jack's, our fast-paced industry requires nimble, detailed and quality work and the products provided by BPI Media fit the bill with ease. We are so grateful to have found such a reliable partner with exceptional customer service and innovative thinking. It is truly an asset to have a team we know is always looking for the best and most cost-effective solutions that reflect the high standard we hold of our brand and company.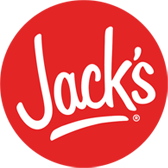 Sarah Cain
Communications & Merchandising Manager,
Jack's Family Restaurants