Agfa Press Release: BPI Media Group Gets North America's 1st Anapurna M2500
Download the full release from Agfa Graphics (PDF).
—
 BPI Media Group Gets North America's 1st Anapurna M2500 from Agfa Graphics
Eight-foot wide inkjet printer will broaden new market opportunities
Elmwood Park, NJ – January 13, 2014 – The first Anapurna M2500 from Agfa Graphics in North America has been sold and it's calling BPI Media Group (http://www.bpimediagroup.com) of Boaz, AL, home. The Anapurna M2500 is a robust, industrial UV inkjet system that supports both rigid and roll-to-roll media.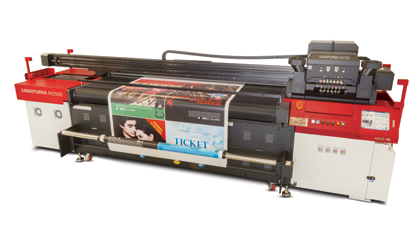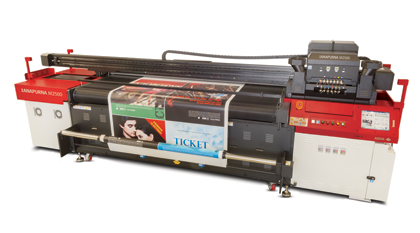 BPI Media Group is a family owned-and-operated organization that offers a wide array of services, including digital printing with variable data, offset printing, fulfillment and mailing, web development and more. Those in the organization anticipate expanding their current business and entering new markets with the Anapurna M2500 in their shop.
"I belong to a peer group and we help guide each other on purchasing decisions," explained Alan Davis, President, BPI Media Group. "The group has looked at wide format equipment over the years but speed and quality were issues. We feel that the Anapurna M2500 broke that barrier and addresses our speed and quality requirements."
Designed for indoor and outdoor applications, the Anapurna M2500 features six colors and in-line white ink, producing top quality prints at a maximum resolution of 1440 dpi. It delivers exceptional print quality on a wide variety of indoor and outdoor media, such as glass, Plexiglass, mirrors, exhibition panels, stage graphics and  dvertising panels, as well as roll media like film, vinyl, paper, canvas and banners.
The Anapurna M2500 offers the flexibility necessary to satisfy demanding customers.
"We are beginning to see some of our existing clients as a source of wide format opportunities that we can now capitalize on, allowing us to further diversify our business. The M2500 handles a wide array of substrates so we can deliver the kinds of products our customers value," Davis added.
Print service providers looking to broaden their offerings and become more profitable may want to consider the capabilities of the Anapurna M2500. Its industrial design and 98-inch print width expand the range of flexible media applications. It also increases productivity with multiple board printing.
On-board white ink creates opportunities for printing on transparent material for backlit applications or printing white as a spot color. Because Anapurna inks cure instantly, prints are ready to go as soon as the engine finishes its cycle.
BPI has a motto: "We measure our success by the success of our customers." With the Anapurna M2500, BPI expects to spend 2014 spreading success far and wide.